Skip to Main Content
It looks like you're using Internet Explorer 11 or older. This website works best with modern browsers such as the latest versions of Chrome, Firefox, Safari, and Edge. If you continue with this browser, you may see unexpected results.
General
Subject areas: computer science, business, digital media, information technology, software development, math & science
How to access:
1. Go to https://www.safaribooksonline.com/library/view/temporary-access/?orpq or use the Aalto-Primo e-book link. From the "Select your institution" menu, select "Not listed? Click here"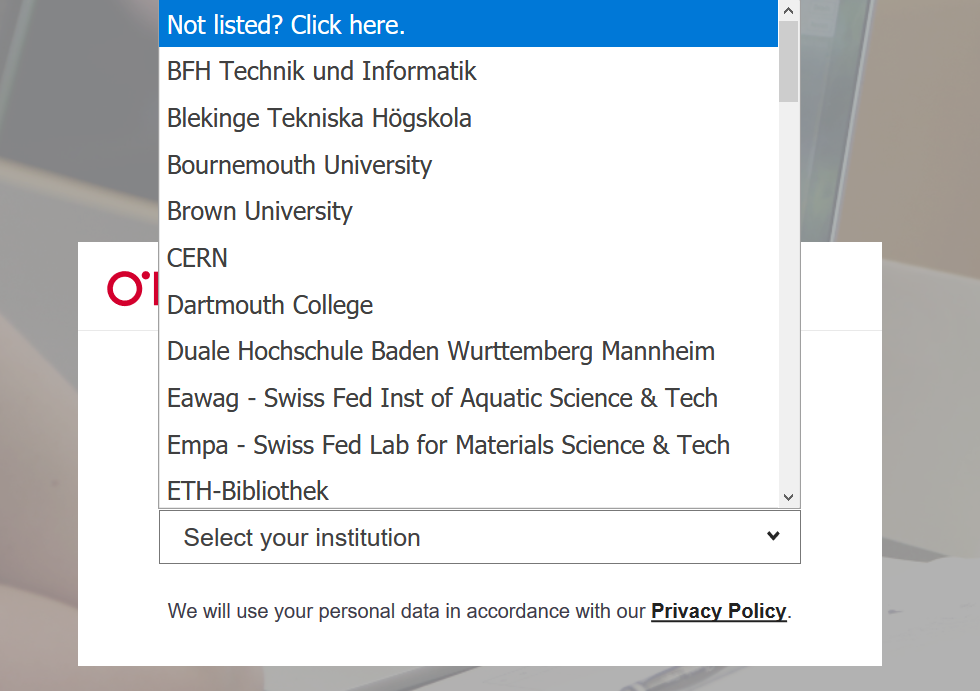 2. Type in your Aalto University email address
3. You will get an email to complete the account setup. Create a password to complete the account setup. Mobile app usage requires user to create a personal account.
Using O'Reilly for Higher Education e-books
Can I find O'Reilly e-books from Aalto-Primo: Yes
User license: Unlimited user license. The user needs a valid Aalto University email address to log in.
Off campus use (for Aalto University researchers and students): Yes, use the Aalto-Primo e-book link and type your Aalto University email address with a patron validation screen.
WHAT ELSE? Safari: O'Reilly's Learning Platform for Higher Education also contains videos, audio books, learning paths, tutorials, case studies, oriole online tutorials.
Offline use
Download to mobile devices and e-book readers:
O'Reilly app can be downloaded to iOS and Android devices.
Printing and copying
Printing: Yes, a reasonable amount of pages for personal use. On book reader page, please use the printing features of your browser.
Copyung: One page at a time.