Skip to Main Content
It looks like you're using Internet Explorer 11 or older. This website works best with modern browsers such as the latest versions of Chrome, Firefox, Safari, and Edge. If you continue with this browser, you may see unexpected results.
Contact Information
Harald Herlin Learning Centre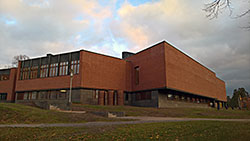 Street address:
Otaniementie 9, Espoo
Mail address:
PO Box 17000
FI-00076 AALTO
FINLAND
oppimiskeskus@aalto.fi
+358 50 316 1011
Outside the service hours only Aalto University students can enter the premises with an access card.

More information:
Harald Herlin Learning Centre
Media

This guide contains essential information sources for the Department of Media studies in Graphic Design, New Media and Photography.
Books -search for printed books and e-books

Journals- see journals available for your studies, search for e-journals and check the locations of printed journals

Articles and databases - find essential databases

Journal and article assessment - information on article and journal assessment including links to databases that offer citation information, and information on open access publishing and publication assessment at Aalto University

Dictionaries and reference works - use dictionaries and reference works offered by the library

Theses and dissertaions - provides information on accessing and publishing theses and dissertations completed at the School of Arts, Design and Architecture

Web resources - current news and links to exhibitions

Visual resources - guide to different kinds of image collections and services, image retrieval and copyright issues.