Skip to Main Content
It looks like you're using Internet Explorer 11 or older. This website works best with modern browsers such as the latest versions of Chrome, Firefox, Safari, and Edge. If you continue with this browser, you may see unexpected results.
Contact Information
Harald Herlin Learning Centre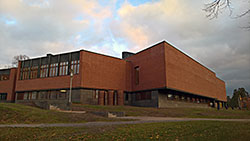 Street address:
Otaniementie 9, Espoo
Mail address:
PO Box 17000
FI-00076 AALTO
FINLAND
oppimiskeskus@aalto.fi
+358 50 316 1011
Outside the service hours only Aalto University students can enter the premises with an access card.

More information:
Harald Herlin Learning Centre
Art Education

This guide contains essential information sources for art education and advice on information searching to support study and research.
More guides
Have a look at the library's guides for useful information in other disciplines and information skills.