Skip to Main Content
It looks like you're using Internet Explorer 11 or older. This website works best with modern browsers such as the latest versions of Chrome, Firefox, Safari, and Edge. If you continue with this browser, you may see unexpected results.
Information about startup companies: Global Corporate Venturing
Global Corporate Venturing contains information about investments made by large companies to internal ventures and external startup companies as well as other ways of co-operation between them.
Note! Registration with Aalto University email address is required in order to access to the database. Please contact oppimiskeskus@aalto.fi to get the link to registration page.
Link to the database: Global Corporate Venturing
Harald Herlin Learning Centre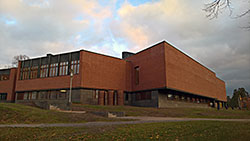 Street address:
Otaniementie 9, Espoo
Mail address:
PO Box 17000
FI-00076 AALTO
FINLAND
oppimiskeskus@aalto.fi
+358 50 316 1011
Outside the service hours only Aalto University students can enter the premises with an access card.

More information:
Harald Herlin Learning Centre
Welcome to Industrial engineering and management guide

This guide contains essential resources, tips and useful links on industrial engineering and management.
Aalto-Finna search service provides access to all resources available at Aalto University.
If you need help in information retrieval or using our resources, please visit Can't find it? page.
Information skills training
Information about information skills training at Learning Centre: